Importance of Preventative Care
Our focus on preventative care sets us apart from other clinics. We would like to see your pet annually. We want to discuss nutrition, skin and coat health, oral care, and of course vaccination recommendations.
We can't underestimate the value of preventive care. We know that patients show no clinical signs of many diseases until they are well advanced. Preventive care testing is critical in order to catch these diseases in their early stages when treatment is most effective. As animals age, the incidence and severity of diseases increase, as does the likelihood that a patient may have several concurrent diseases.
Also, preventive screening tests, like heartworm disease and intestinal parasites and core vaccinations with preventive dispensing can help patients live longer, more comfortable lives.
Vaccination Information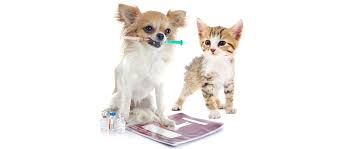 Canine Distemper
Is a contagious and serious viral illness with no known cure that affects a dog's respiratory, gastrointestinal, respiratory and central nervous systems, as well as the conjunctival membranes of the eye.
Canine Adenovirus Type 2
Causes respiratory disease in dogs and is one of the infectious agents commonly associated with canine infectious tracheobronchitis, which is also known as "kennel cough". The infection is typically self-limiting (resolving without treatment); however, in some cases, it can lead to pneumonia.
Canine Parainfluenza Virus Infection
Is a highly contagious viral lung infection which can be a component in infectious tracheobronchitis, commonly referred to as "kennel cough"
Canine Parvovirus
Is a highly contagious virus that can affect all dogs, but un-vaccinated dogs and puppies younger than six months old are the most at risk. The virus affects dogs' gastrointestinal tracts and is spread by direct dog-to-dog contact and contact with contaminated feces (stool), environments, or people.
Canine Leptospirosis
The bacteria are spread through the urine of infected animals, which can get into water or soil and can survive there for weeks to months. Humans and animals can become infected through contact with this contaminated urine, water, or soil.
The bacteria can enter the body through skin or mucous membranes (eyes, nose, or mouth), especially if the skin is broken from a cut or scratch.
The disease is caused by spiral shaped bacteria called leptospires. It occurs worldwide and can affect humans as well as many wild and domestic animals, including dogs and cats. In people, the symptoms are often like the flu, but sometimes leptospirosis can develop into a more severe, life-threatening illness with infections in the kidney, liver, brain, lung, and heart.
Canine Bordetella
If your pet is a regular at daycare, grooming facilities or the dog park, getting vaccines 12 months to prevent canine infectious tracheobronchitis (aka kennel cough) may be inconvenient, but the vaccine against Bordetella is important in order to protect your pet from the hacking cough and snotty nose brought on by the easily contracted bacteria that causes the highly contagious disease in both dogs and cats.
Canine Influenza or The Dog Flu
Is highly contagious and easily spread from infected dogs to other dogs by direct contact, nasal secretions (through barking, coughing or sneezing), contaminated objects (kennel surfaces, food and water bowls, collars and leashes), and by people moving between infected and uninfected dogs. Dogs of any breed, age, sex or health status are at risk of infection when exposed to the virus.
Canine Rattlesnake Vaccine
The vaccine generates protective antibodies against the rattlesnake venom, which neutralizes the venom itself. They claim that dogs are reported to experience less pain and have a reduced risk of permanent injury from the bites when properly vaccinated.
Feline Viral Rhinotracheitis (Herpes)
Herpesvirus infection, also known as feline viral rhinotracheitis (FVR), is an infectious disease caused by feline herpesvirus type-1. As with other herpes viruses, the virus is very species specific, and is only known to cause infections in domestic and wild cats. The virus can infect cats of all ages. FVR is a major cause of upper respiratory disease in cats, and is the most common cause of conjunctivitis (inflammation of the tissues surrounding the eye, especially the lining of the lids and the third eyelid).
Feline Calicivirus
Feline calicivirus is a highly contagious virus that causes a mild to severe respiratory infection and oral disease in cats. It is especially common in shelters and breeding colonies, and often infects young cats. Most cats recover completely after a calicivirus infection, but rare strains can be especially deadly.The virus spreads through direct contact with the saliva, nasal mucus and eye discharge of infected cats and through aerosol droplets that spread when cats sneeze. Lab tests have also detected the virus in urine, feces and blood. Cats typically shed the virus for about two or three weeks after infection, but some cats become long-term carriers, and continue to shed the virus on and off for months.
Feline Panleukopenia
Feline panleukopenia virus (FPV, pan-loo-ko-peeneea), also commonly referred to as feline distemper, is a highly contagious and life-threatening viral disease in the cat population. Feline distemper is actually a misnomer, as the virus is closely related to the canine parvovirus
This panleukopenia virus affects the rapidly dividing blood cells in the body, primarily the cells in the intestinal tract, bone marrow and skin. The name means pan- (all) leuko- (white blood cells) -penia (lack of), meaning that all of the body's defense cells are killed by the virus.
Because the blood cells are under attack, this virus can lead to an anemic condition, and it can open the body to infections from other illnesses—viral or bacterial.
In the unvaccinated population, panleukopenia is one of the deadliest cat diseases. The causative virus is very resilient and can survive for years in contaminated environments, so vaccination is the best preventative available.
Kittens between the ages of two to six months are at highest risk for developing severe disease symptoms, as well as pregnant cats and immune compromised cats. In adult cats, panleukopenia usually occurs in a mild form and may even go unnoticed. Fortunately, cats who survive this infection are immune to any further infection with this virus.Cats acquire this infection when they come into contact with infected blood, feces, urine or other bodily fluids. The virus can also be passed along by people who have not washed their hands appropriately or have not changed clothing between handling cats, or by materials such as bedding, food dishes or equipment that has been used for other cats.
Feline Leukemia Virus
Feline leukemia virus (FeLV) is one of the most common infectious diseases in cats, affecting between 2 and 3% of all cats in the United States. Infection rates are significantly higher (up to 30%) in cats that are ill or otherwise at high risk (see below). Fortunately, the prevalence of FeLV in cats has decreased significantly in the past 25 years since the development of an effective vaccine and accurate testing procedures.
Cats persistently infected with FeLV serve as sources of infection for other cats. The virus is shed in saliva, nasal secretions, urine, feces, and milk of infected cats. Cat-to-cat transfer of the virus may occur from a bite wound, during mutual grooming, and (rarely) through the shared use of litter boxes and feeding dishes. Transmission can also take place from an infected mother cat to her kittens, either before they are born or while they are nursing. FeLV does not survive long outside a cat's body – probably less than a few hours under normal household conditions.
Cats at greatest risk of FeLV infection are those that may be exposed to infected cats, either via prolonged close contact or through bite wounds. Such cats include cats living with infected cats or with cats of unknown infection status, cats allowed outdoors unsupervised where they may be bitten by an infected cat, and kittens born to infected mothers.
Kittens are much more susceptible to FeLV infection than are adult cats, and therefore are at the greatest risk of infection if exposed. However, even healthy adult cats can become infected if sufficiently exposed.
Rabies
Rabies is a viral disease that can infect all warm-blooded animals, including cats, dogs and people, although some species are somewhat naturally resistant to the disease. When signs of rabies occur, it is an almost invariably fatal disease. Rabies virus does not survive long outside a mammal's body. Since the virus can be shed in the saliva of infected animals, the virus is usually transmitted when the saliva of an infected animal is introduced beneath the skin of a bite wound. In North America the skunk, raccoon, fox, and bat are important reservoirs for the virus, whereas in Europe, foxes are the main source of infection.
Wellness Plans
Tender Care Veterinary Center offers Wellness Plans to assist you in providing comprehensive preventative veterinary care for your four-legged friends. Our Wellness Plans make it convenient and affordable to provide your pet with the care they need and deserve.