Physical Rehabilitation for Your Pet
What is Rehabilitation?
Rehabilitation is similar to physical therapy in human health care. It can benefit dogs that have injuries, arthritis, have orthopedic surgery, neurological diseases, and can even help them lose weight!
We use different rehabilitation techniques and modalities to help patients recover from injuries, improve quality of life, and minimize pain.
Available Services
Underwater Treadmill
Laser Therapy
Massage
Therapeutic Exercise
Passive Range of Motion (PROM)
Acupuncture
Thermotherapy and Cryotherapy
Rehabilitation Team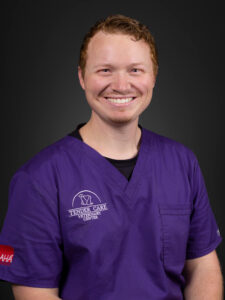 David, CVT, RVT
David is a certified veterinary technician at Tender Care. He has a passion for rehabilitation and enjoys helping his patients live a more comfortable and fulfilling life.
Lindsey Blair, DVM
Dr. Lindsey Blair is a veterinarian at Tender Care. She has a background in rehabilitation and has a passion for it.
Amy Clark, DVM
Dr. Amy Clark is a veterinarian and owner at Tender Care Veterinary Center. She is certified in acupuncture.