Registered Veterinary Technician
Job Description
Are you a Registered Veterinary Technician that is looking for position that allows you to use your skills and be an integral part of the pet's care team? TCVC hires only RVT eligible technicians because we understand the importance and value that your education and experience add to our team!
TCVC understands the challenges that new graduate technicians face when transitioning from academia to practice and has helped many technician's acquire the skills and confidence to become successful in a high paced practice setting. We encourage students and new graduate to apply!
Call us to find out more about our open positions and externship programs!
Where you work is a BIG decision!
Start a conversation with us today to learn more about the TCVC Team.
Call (719) 559-8282 ext: 3608 and ask for Jessica Torres!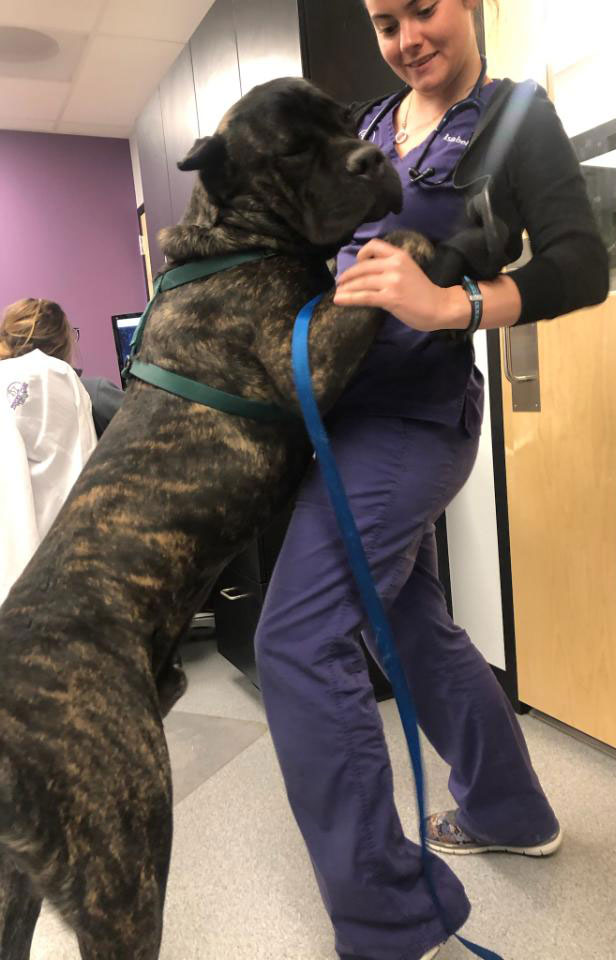 Job Summary:
The RVT provides exceptional standard of care for all patients while being the Veterinarian's primary medical support. RVTs begin the examination procedure from the reception into exam room record keeping and continue to assist the doctor throughout the examination, diagnosis and treatment phases, into plan/follow-up and check out procedures. They perform all designated call-back and reminders per doctor request. They aid in achieving greater efficiency by relieving the doctor of technician work and administrative detail. They have a significant role in communicating with and educating clients about pet health and well-being.
Qualification/Requirements:

High school diploma or equivalent
Current Colorado State Credentials as a Certified Veterinary Technician (CVT)
Current Registration with the Department of Regulatory Agencies (DORA)
or
Graduated from an AVMA accredited program and able to sit for the VTNE to obtain state credentials and registration
Experience Requirement:
New graduates are encouraged to apply.
Essential Duties:
Appointments/Exam Rooms
Greets client in reception, escorts into appropriately prepared/clean exam room, weighs patient; client form/waiver
Completes record keeping of history and chief complaint
Perform physical assessment, record in the computer patient file
Understand all vaccinations, core vs elective and vaccine protocols, thereby being able to explain well to clients their pets needs/requirements
Provides client estimate of all procedures and discusses with owner, consent
Client education- preventative care, how to administer medications, HW testing, FeLV-FIV testing, nutrition and dietary needs, parasite control, spay and neuter, dental prophy etc. and preventative literature to pet's problem
Discuss plan and administration of medication with client per doctor's order
Keeps appointment flow running smoothly, ensures teamwork and considerate communication
Admits and discharges patients based on Center policy and doctors orders, written or verbal (patient medical history upon presentation, home care, medication administration, and pre or post operative care)
Animal Care:
Maintains any patient treatments requests by doctor and accurately document all services in patient file on computer and whiteboard as treatment, anesthetic, dental or hospitalization records
Sets up anesthesia machine and performs pressure check daily and prepares surgery room or treatment area for procedures
Preparing surgical packs, autoclave use and maintenance, log
Maintains patient records by recording all medical conversations with clients and any work performed. Works closely with doctors and follows up on additional work as needed. Initial all documentation for verification
Practices safe and effective restraints techniques
Preparation of surgical patient, including tracheal tube placement, catheter placement and maintenance/use of IV pump (fluid support), and anesthetic preparation, protocol, charting
Surgical assistance to the surgeon while maintaining patient vitals and comfort and sterile field, charting
Performs dental scaling, polishing and chlorhex/fluoride etc treatments, charting and pre/post pictures
Monitoring surgical patients before, during and after the anesthetic procedure. This includes pain control, anesthesia depth, temperature, blood pressure, heart rate and rhythm, oxygenation recovery, post surgical cleanup and pain and antibiotic injections. All patients should be fully attended until completely recovered (standing, BAR), record to patient file
Performs treatments as requested by the doctor
Knowledge In common disease states and alerts doctor when symptoms change or when concerns arise in hospitalized or tech only patients
Can perform ER procedures such as control of bleeding, resuscitation with oxygen, opening airways and external cardiac massage
Laboratory:
Proficient in blood, fecal, skin scraping, hair pluck, ear, urine sample collection and techniques used for preparation of samples to be sent to reference lab or performed in-house
Reading fecal floats and smears, urinalysis, performing heartworm, parvo, FeLV-FIV tests and/or thyroid, cPLI, relaxin, cortisol, phenobarbital, blood glucose, fructosamine, bile acids snap tests and any further in-house testing according to manufacturer requirements
Makes appropriate calls to clients with lab results per doctor's request
Radiology:
Knowledge, preparation, operation, cleanliness and maintenance of the DR radiology equipment to include personal protective equipment; logs shutdown weekly
Effectively positioned for and takes radiographs as requested by the doctor while using all personal protective equipment provided to include personal dosimeter badge
Animal restraint assistance as required
Prepare patient and equipment, maintenance and cleanliness for use of laser therapy as requested
Prepare patient and equipment, maintenance and cleanliness for use of ultrasound per doctor's orders
Hospital Maintenance:
Understands to importance of a clean and orderly facility that smells good! Does not hesitate to clean or organize as part of a normal job duty
Maintains laundry and dishes
Cleanliness of exam, treatment, pharmacy, lab, surgery suite, radiology room, dental suite, kennel, isolation, restroom, breakroom, offices based on daily duties
Daily vacuuming and mopping of floors with provided equipment and supplies, empty all trash cans
Proper care and maintenance of all equipment and instruments
Maintains outside grounds free of garbage, feces daily
Pharmacy:
Maintains controlled drug log
Understands usage, dosage and common side effects for commonly used prescription drugs and can readily explain them to clients
Crematory:
Authorized personnel only
Miscellaneous: Performs any other duties requested by the Owner, Doctor, Regional Director, or Practice Manager as needed for effective Center operations
Other Opportunities To Join Our Team:
Helpful Links & Resources
Apply Today